Love. 2002.First in a series of sculptures on love, togetherness and the creation of a twoness.
Overzicht .(Overview) 2005.Sculpture height: 81 in, Total height: 100 in. Seated keepers, tall and prominent, movingly motionless, timeless beholders of a changing world.
'I like working thematically because this creates the possibility for me to get wrapped up in a theme for a longer period of time, making it possible to examine different aspects of emotions. Looking at a theme from another angle, empasizing, singling out and capturing these new insights in a new sculpture is a challenge over and over again.'

The sculpture 'Going' is created in 2000, the first of a series of solitary figures exuding stillness, calm and serenity. The idea to remodel these solo figures into pairs came at a later stage. My paired figures bring out the romantic in me strongly, evoking feelings of solidarity, tenderness and intimacy. These are made visible by merging, interweaving and using surfaces that belong to both, hereby creating sculptures with a deep sense of initmacy.

Both themes have been developed over the following years. In the solo sculptures I play around with ideas on rest and relaxation, the patience in waiting on what's to come. This is is shown in balanced sculptures with a timeless character. Through these figures I want the observer to realize that rest and silence of immense importance, presenting a counterweight to our hectic world.

The stringently abstracted forms remind of ancient Egypt. They are powerful and modern but leave room for the imagination of the viewer. The subtle way in which the stillness has been captured in bronze, combined with the extremely sober modelling, make for the fact that these sculptures invite to be placed in a series of 2 or 3. In this way the individual strength that the solo sculptures have in themselves is even enlarged by the connection between them.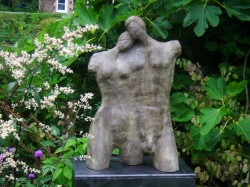 Sharing love 2004